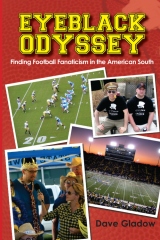 "College football is madness. This book is proof."
-Dave Gladow
In the fall of 2009, newlyweds obsessed with college football road-tripped to a different college game around the southeast every weekend. This was a silly thing to do, but they did it anyway. Their "Eyeblack Odyssey" eventually inspired a book by the same name, exploring their love affair with college football.
"Eyeblack Odyssey" is a compilation of stories from that fateful autumn, mixed with a humored look at the hilarity that is college football in general. More importantly, in this era of cheating scandals, headlines about child molestation, and the stupidity of conference realignment, the author makes a case that college football is actually GOOD.
(Yes, this is also a silly thing to do.)
For newbies to the sport or seasoned die-hards, "Eyeblack Odyssey" offers a fun look at the best of college football.
Schedule of Games:
(Sept. 5) — South Alabama vs. Hargrave Military Academy
(Sept. 7) — Miami (Fla.) vs. Florida State
(Sept. 12) — Kansas State vs. Louisiana-Lafayette
(Sept. 19) — New Orleans vs. Texas-Arlington
(Sept. 26) — Georgia Tech vs. North Carolina
(Oct. 3) — Louisiana-Monroe vs. Florida International
(Oct. 10) — Texas A&M vs. Oklahoma State
(Oct. 17) — McNeese State vs. Northwestern State
(Oct. 24) — Mississippi State vs. Florida
(Nov. 7) — Tulane vs. UTEP
(Nov. 14) — LSU vs. Louisiana Tech
(Nov. 19) — Southeastern Louisiana vs. Nicholls State
(Nov. 21) — Southern Mississippi vs. Tulsa
(Nov. 28) — Bayou Classic (Grambling vs. Southern)
(Jan. 1) — Allstate Sugar Bowl (Florida vs. Cincinnati)
Also available on Amazon.com.